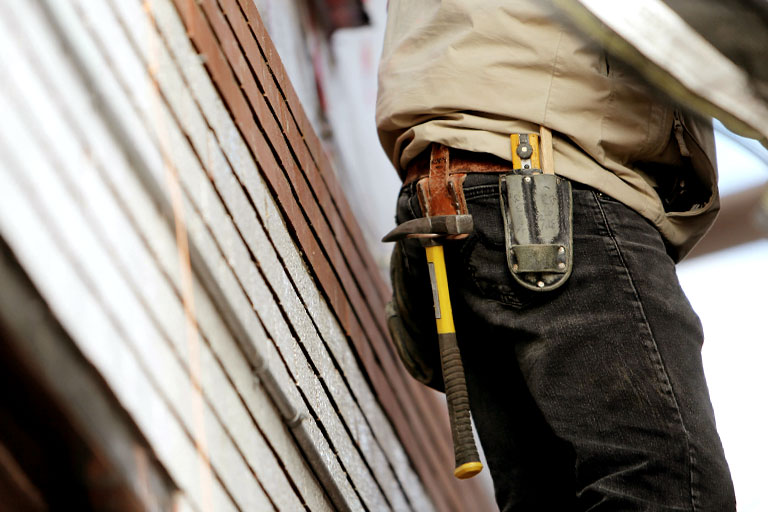 Getting a brand new roof for your home can be an exciting experience, but when the roofing company comes, your house is transformed into a work zone. As you can imagine, a "work zone" is an unexpected danger that can cause a lot of unknowns and headaches.
It is in your best interest to protect yourself and your valuables whenever you replace the roof of your house. Therefore, we thought it would be beneficial to offer a deeper version that explains the reasons why you need to prepare for roof mounting.
When you ask ProPoint Roofing & Construction of La Crosse to install a roof on your house and a new roof at that, you should ask yourself how you can prepare. As a homeowner, we provide you with a checklist that you should take into consideration before you renew your roof.
During a roof replacement, numerous installers go on your roof and smash it with hammers. Keep your personal belongings covered with old sheets and garbage cloths until the roofing company is done. During roof renovations, dust and small debris can make their way from the roof into your room.
Also use vinyl tarpaulins to protect plants and grasses in the immediate vicinity of your home.
Before you can start the work on your home, you must mow your lawn the day before construction begins and prune branches hanging low from the roof. Short grass prevents falling debris from hiding in the lawn, which makes cleaning up roof debris and nails easier. Prepare to carry a light vacuum cleaner for cleaning and cleaning until the construction is complete.
The noise and vibrations of hammers and rooftop machinery can penetrate the walls of your home, which can lead to rot that needs to be replaced.
Look for little things like paintings and other objects hanging from the ceiling or walls that may need to be taken care of, as well as what is going on in the rooms directly below the roof.
As a precaution, remove all decorations that are not permanently secured with screws. You can also remove decorative lights such as chandeliers to play it safe, as well as any other decorative items in your home.
Roofers will need quick access to tools and trucks all day long, so it's a must to give the roofer his best pitch. Roofers will also need a place where they can load the shingles and debris and where they can park vehicles.
You want to keep your vehicle at a safe distance from the site until the work is completed. The roofer will throw away old shingles and other debris while working, so if you have a garage, protect your garage door with plywood during the project. Keep it closed at all times of the day and night to keep dust and debris away from you.
You do not want items or elements of your home to be damaged, and you do not want objects that are a "stumbling block" for workers, such as your garage door, door handles or other objects on the construction site.
If you have an antenna or satellite dish on your roof, remove it as soon as possible and call your cable and satellite provider before replacing the roof to make arrangements for a new installation. They don't want the new roof supplies to get wet, but they don't want the roofers to shower either. It is recommended that the shells are not mounted on the poles of your house, as leaks may occur if they are not installed properly and may compromise your warranty.
While it can be exciting to watch from a safe distance, working zones for children and pets can be extremely unsafe. Talk to your children to explain that certain areas of your home and yard will remain closed until the project is completed. It is not easy to turn to a relative or friend to replace a roof, as infants or pets may not understand the dangers. You can view our articles for more helpful tips, or contact us for more information.
ProPoint Roofing & Construction is a roofing contractor based in La Crosse, WI. La Crosse, Wisconsin is a city of approximately 50,000 residents, nestled between the Mississippi River and the Bluffs of the "driftless" region, also known as the Coulee Region. The origins of the city date back to the settlement in La Crosse which began with the arrival of fur trader Nathan Myrick in 1841. The city features multiple colleges and universities including the University of Wisconsin La Crosse, Western Technical College, and Viterbo College. The beauty of La Crosse is prevalent throughout it's numerous beautiful parks including Myrick Park, Pettibone Park, and Hixon Forest.

You can learn more about the City of La Crosse by visiting the La Crosse Area Visitor and Convention Bureau.
Contact Us:

ProPoint Roofing & Construction
W5585 County Rd MM #410
La Crosse, WI 54601
(608) 386-7338
https://www.propointwi.com/

Directions:
https://www.google.com/maps?cid=9104957614717147454
Find us on Social Media

Facebook: https://www.facebook.com/propointroofingandconstruction/
Twitter: https://twitter.com/propointwi
Pinterest: https://www.pinterest.com/propointroofingonline/
Blogger: https://propointroofing.blogspot.com/
WordPress: https://propointroofing.wordpress.com/
Tumblr: https://propointroofing.tumblr.com/