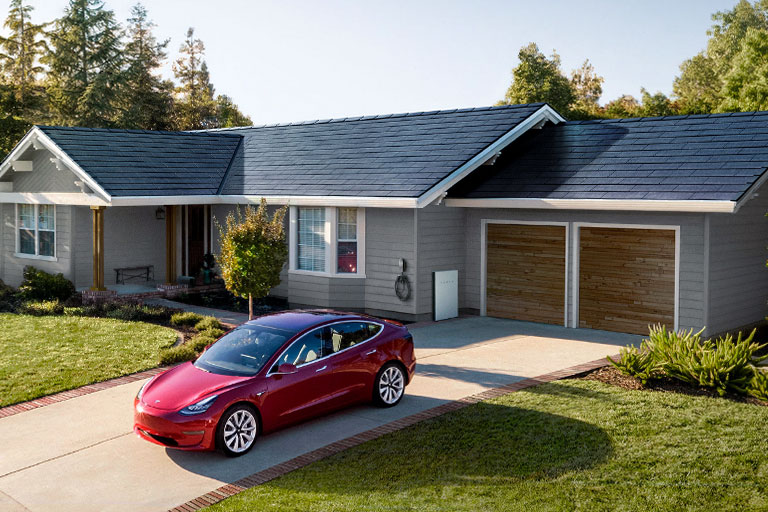 For years people were putting down payments on solar roof tiles with Tesla. Well, this may come as a bit of a disappointment to many who did, Tesla is now reaching out to many homeowners who did put down payments on solar roofs because Tesla does not cover their area. This is leaving many upset after having already placed down payments years ago.
Tesla brought into public light their solar roof tile in 2017 and began taking pre-orders with deposits of one thousand dollars.
They had initially told customers that installations would start shortly thereafter, and that it could even be as soon as 2018.
However, Tesla announced there were some initial issues with longevity of the roof tile and they opted for numerous changes that lead to an updated version of the solar roof in 2019.
Then, they ramped up hiring of roofing contractors who could install the solar roofs for customers all over the United States.
Since then, Tesla has begun installing many orders of the roofs, designed to protect the home from rain and storm damage while at the same time generating electric power from the sun.
However, many homeowners are now disappointed to find out Tesla will not be installing the solar roofs in their area and are being given refunds on their deposits.
Tesla is distributing emails to some of those unfortunate customers:
Upon further review, your home is not located within our currently planned service territory. The driving distance from our closest warehouse would make it difficult for us to provide you the high-quality service that our customers deserve. For this reason, we will not be able to proceed with your project.
Some homeowners are upset about the move, even going so far as calling the refunds, "Unacceptable business practices."
Many other homeowners are just disappointed at the move, one saying, "We were really looking forward to generating solar power with these cutting edge roof tiles, and now, there is nothing we can do."
While this may be a poor way of treating customers, perhaps Tesla is doing what it can to ensure a smooth roll-out of the roofing product, and perhaps they will offer the solar roofs at some point in the future.
Many of those with reservations of the solar tiles are now being refunded three years later, and left wondering what to do next.
ProPoint Roofing & Construction is one of the La Crosse area's top roofing contractors, specializing in residential roofing and commercial roofing. We're here to serve you with top quality craftsmanship and great prices. Contact us today!
ProPoint Roofing & Construction
W5585 County Rd MM #410
La Crosse, WI 54601
(608) 386-7338
Directions